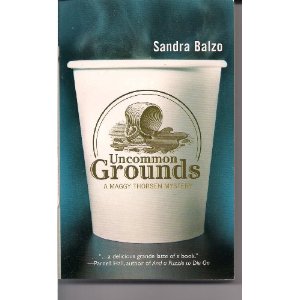 Okay, lets start off this review by mentioning that I start off my day with a double espresso, believe that stove-top coffee is the closest Ill get to heaven in this lifetime, and its my firmly held opinion that adding syrup, milk, or any type of sweetener to a caffeinated beverage is complete anathema.
And though I have designs on moving to the US one day, the idea of filter coffee or, gasp, microwaved'coffee utterly terrifies me.
So, from the get-go Im on Balzos side. And given the way that Balzo treats her characters in'Uncommon Grounds, the first in her Maggie Thorsen coffee house mystery series, Im rather glad that I am. After all, on page one, Patricia Harper, (now erstwhile) co-owner of the snappy Uncommon Grounds cafe in which Maggie is a partner, cops it while making her morning latte. (If thats not a warning about the perils of milk-adultered coffee, I dont know what is).
Uncommon Grounds'follows the sharp, witty, and hilariously cynical Maggie as she tries to determine the circumstances behind Patricias death-by-latte demise. Rather than crying over spilt milk (hey, its a business expense), she gets right down to business. Are we looking at Pats jilted lover? The political rival shes been butting heads with? The disgruntled coffee shop owner with an axe (or perhaps coffee bean) to grind? Between her investigations, trying to get Uncommon Grounds back on track, a fair amount of time plotting revenge against her ex, and her budding romance with detective Pavlik, Maggie finds herself facing a situation more muddled than a Starbucks frappuccino.
The novel rips along with the vim and verve of a toddler whos been given a short black rather than a babycino, but like a good barista, Balzo generally keeps the froth to the minimum. Her characterisation is nicely done, and imbued with humour galore, an essential element when crafting a cozy along these lines. Maggy gets her snark on without being too vicious: perhaps its the coffee fiend in her that entices her to get that level of roasting just right. (Poor, long-suffering fiance was treated to the occasional readaloud as I giggled through this)'Uncommon Grounds'is the first in the series, and Balzo does a splendid job of introducing the small-minded, slightly parochial town of Brookhills and its residents, many of whom (Im finding as I read through the rest of the series) take on larger roles in later books. Its a tough balance to strike, but it works here.
Admittedly, plot-wise there are a few wrong turns that left me feeling a little bewildered: the domestic terrorism angle seemed completely left-of-field to me even given Patricias political involvement, and the way in which the Christ Christian church is implicated in this seemed a bit of a reach. Perhaps its that American politics seems so vastly different from Australian politics (you guys have your Tea Party, and we, well a tea party is about as involved in politics as the average Aussie gets), or perhaps its the reliance on coincidences (sudden rescreening of television footage; email-based serindipity and so on) that seems to fuel this aspect of the plot later on in the book.
But, really, youll be so taken by Maggies brusque and insightful (not to mention giggle-inducing) observations, the homely, friendly vibe of Brookhills (er, other than that whole murder thing), and the endlessly entertaining, eclectic cast that you wont really care. A fine debut.
Rating:





(very good)
Purchase Uncommon Grounds from Amazon | Book Depository UK | Book Depository USA
This book was read as part of my participation in the MS Readathon, a charity event that supports multiple sclerosis research. If you would like to sponsor my efforts, you can do so'here. All donations are tax deductible.
With thanks to Sandra Balzo for the review copy
This book appears on our list of books about coffee
See also our review of Grounds for Murder
See also our review of Bean There, Done That
Also by Sandra Balzo: