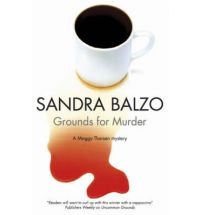 Poor Maggy Thorsen cant catch a break. On a good day all that should be brewing is a hot cup of coffee, but instead its trouble all around. Having barely had enough time to freshen up after helping solve the murder of her coffee shop co-owner, Maggys facing down another dead body. This time its Marvin LaRoche, who though exhibiting roach-like behaviour around the clock, doesnt quite have the same invincibility as one.
Maggy, again, is in the wrong place at the wrong timeand this time shes even had the bad luck to be caught holding the murder weapon (a rather hilariously described Venus-like figurine whose buxom shape apparently poses quite the threat to a fragile human skull). But given LaRoches habit of alienating just about everyone hes ever come in contact with, shes not the only suspect. Theres Janalee, LaRoches dreamy, hippie wife; Amy, the punky barista whos just defected to Maggys side, and Antonio, the lactose-intolerant milkmanwho always rings twice.
Maggy juggles the ins and outs of a murder investigation while trying to do her part at the Java Ho coffee convention, doing what she can to woo Sheriff Pavlik, and attempting to run her cafe. Its multitasking at its finest.
The second installment in Balzos fun and cheery coffee shop series doesnt quite work as well as the first, although Maggys breezy voice helps keep things afloat even when the pacing and believability dips a little. Part of the problem is structural: LaRoches murder is bumped to the beginning of the book, which then retraces the time up until the murder, a circular approach that can work well but that here dials down the tension somewhat.
And where Balzos characters shone in the first Maggy outing, here theyre a little less well-drawn, with LaRoche and Janalee in particular feeling a tad too over-the-top to manageeven in a cozy mystery, where larger-than-life characters are part and parcel. The lead-up to the big reveal feels a little forced, too, with certain plot twists (random sperm donation and even more random accusations of lead poisoning) feeling plucked from thin air.
Fortunately Maggy soldiers on, and even though the plot in her sophomore effort lacks the crunchy goodness of the first in the series, our protagonist nevertheless makes this a worthwhile read. (And having just finished the next in the series I can say that book two seems to be a one-off blipBalzo returns in fine form).
Rating:





(good)
Purchase Grounds for Murder'from Amazon | Book Depository UK | Book Depository USA
This book was read as part of my participation in the MS Readathon, a charity event that supports multiple sclerosis research. If you would like to sponsor my efforts, you can do so'here. All donations are tax deductible.
With thanks to'Sandra Balzo'for the review copy
This book appears on our'list of books about coffee
See also our review of Uncommon Grounds
See also our review of Bean There, Done That
Also by Sandra Balzo: