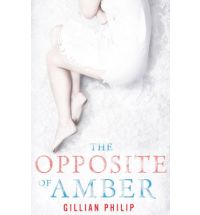 Laconic, indifferent Ruby is the type whos easily overlooked, particularly when shes hidden by the blinding dazzle of her charismatic older sister Jinn. And with their mother, Lara, having recently died, the two girls are an awkward yin-and-yang team struggling to make their way on government hand-outs and minimum wage work. But although the sisters seem so vastly different on the surface, there are similarities that run deeptragically deep, as it turns out. Both live in a combination of the present moment of the past, but never in the future: they seem incapable of planning, dreaming, or perhaps even hoping. But living in the past will have disastrous consequences for both sisters. And its this, in addition to the theme of inaction, that is so key in this book.
In The Opposite of Amber'the bucolic background of Scottish small-town life, a background of long, lazy days, lush scenery and quiet passivity is suddenly startlingly contrasted with tragedytragedies that are varied in type and that braid together to create an utterly abject, hopeless air. While Ruby sits sipping flavoured drinks in the languid Scottish sun, girls are being murdered. While Ruby stands looking on, a boy attempts suicide. While Ruby is quietly distracted, Jinn is falling in love with the charming, dangerous Nathan Baird
The murdered girls in this book are, as is so often the case, prostitutes, all of whom are lost, alone, forgotten. Indeed, though Ruby in retrospect recalls the reporting of each death, she does so only by anchoring each occurrence against events that are unerringly mundane: parties, cooking, tiffs with her sister. For Ruby, just like for everyone else, there is no value placed upon the life of a strangerparticularly one who has, in the minds of everyone, already slowly given themselves over to death. This lack of interest is in stark contrast with Rubys emotions regarding Alex Jerrold, the boy who, right in front of Ruby, jumped from a roof, shattering his spine and becoming a cripple. Ruby is beset with guilt over the incident, and plays it over and over in her mind, contemplating it, internalising it, and ruing it.
Rubys not the only one who tends towards taciturnity. The whole town evades, assumes, alludes, hints rather than going on the record, and the results of this slowly begin to add up. Everyone here is desperately lonely and tragically isolated: we see relationships utterly devoid of communication; lost individuals living alone and silently; people who run away in the hope of finding something more, only to realise that the loneliness they are trying to escape will find them. And every one of these factors is encapsulated in Ruby and Jinns increasingly distant relationship.'Even as she watches Jinn slowly fade away, Ruby says nothing about her sisters relationship with Nathan. Even as Jinn is fired from her job, becomes a shadow of herself, becomes increasingly desperate, Ruby says nothing. as we watch her transformation from happy-go-lucky parent-figure to lost, lamblike child, its impossible not to hear Jinns cry for help, but no one else does: its never explicitly articulatedand no one ever asks, because thats just the way.
Until Jinn goes missing for good, and Ruby suddenly finds that she has a voice after alland always has.
The Opposite of Amber'isnt a mystery or a crime novel, although from time to time it may trick you into believing that it is. Rather, its a heart-wrenching, beautiful record of Rubys attempt to obtain penitence, a record of the all-too-serious outcome of failing to speak up. On a prose level its exquisite, and the characters are so normal and plain and'human'that their very ordinariness makes them something special. And while the final reveal of this (the whodunnit) didnt quite work for me, partly because I felt that this wasnt a novel that needed a reveal, that it worked so beautifully without it, and I did balkas I usually do, because its so gratuitousat the themes of prostitution and judgement, 'otherwise this novel is pitch-perfect.
This book was read as part of my participation in the MS Readathon, a charity event that supports multiple sclerosis research. If you would like to sponsor my efforts, you can do so here. All donations are tax deductible.
Rating:





(superb)
Purchase The Opposite of Amber from Amazon | Book Depository UK | Book Depository USA
With thanks to Bloomsbury Australia for the review copy
Other books by Gillian Philip: