Angelfire by Courtney Allison Moulton giveaway (world)
Huge YA ARC giveaway including Paranormaly, Linger, and more (world)
Shiver and Linger by Maggie Stiefvater giveaway (US)
Secret Ones by'Nicole R Murphy giveaway (world) (see our review)
Shadowed Summer by Saundra Mitchell giveaway (world)
Barely a Lady by Eileen Dreyer giveaway (US)
Tempted by a Warrior by Amanda Scott giveaway (US)
This must be the Place by Kate Racculia giveaway (US/Canada)
Firefly Lane by Kristin Hannah giveaway
Over the Moon by Diane Daniels giveaway (US Canada)
Backseat Saints by Joshilyn Jackson giveaway (world)
Running from the Devil by James Freveletti giveaway (US)
House Justice by Mike Lawson giveaway (US)
__
Have you read our most recent reviews?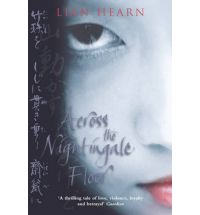 Across the Nightingale Floor by Lian Hearn
Across the Nightingale Floor is the first in Lian Hearn's stunning series set in a feudal almost-Japan of warring tribes and matters of honour.
__
Matt Haig's The Radleys is an unconventional vampire novel that explores both the roles we play in life, and the appetites we suppress in doing so.
__
Perfect Chemistry by Simone Elkeles
This tale of star-crossed love deals admirably and realistically with issues of class and race in suburban Chicago.
Send to Kindle