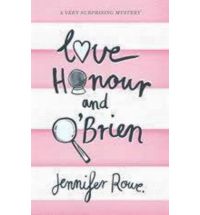 Looking back over my recent chick-lit reviews, there seems to be a direct correlation between the presence of a mystery in its pages and the number of stars I end up awarding it. The airy chic-lit seems to pair so perfectly with a the quirky cozy mystery, so much so that one suspects theres a hint of fraternal twinship going on. This is the first of Jennifer Rowes books Ive read since her pseudonymous'Rowan of Rin days (oh, Emily Rodda, you were the delight of silent reading time in Grade 3), and either Rowe writes just as well for adults as she does for kids, or my sensibilities havent changed much. (Lets go with the former, shall we?)
This book came to me with the promise that it was a perfect single-sitting read, and Im pleased to say that the publicist in question seems not at all prone to exaggeration, because this book is a zippy, chortle-inducing romp filled with dry humour, laconic small-town locals, and a mystery so ridiculous from the outset that youll take every bizarre twist in your stride, and with nary a whit of ill humour crossing your brow.
Holly Love, as is the wont of all chick-lit/cozy mystery heroines, is having a fairly rubbish day. Not that things started out especially badly: shes waved goodbye to her job, blown her savings on a cutesy wedding frock, and is sizing up her ring finger for the bling thats going to adorn it within the hour. But the bottle of Moet clutched in her free hand is going to be used to drown her sorrowssmooth-talking Andrew, the beau who has swept her off her feet, has suddenly vanished, leaving in his wake nothing more than a wimpy note pinned to the refrigerator door.
Eight or so standard drinks and 'a hangover later, Holly is determined to track down Andrew and reclaim, if not her pride, then at least the $1200 that Andrews pinched from her savings account. Twelve hundred bucks goes a long way when youre unemployed, homeless, and reduced to living on soggy biscuits filched from the office coffee room, after all (Hollys pride prevents her from calling her parents in Perthnot to mention that dialling Perth can get pricey when youre calling from a pay phone in the Blue Mountains. That extra buck could go towards a doughnut or a mini sausage roll). So Holly does what every budding sleuth does: she hires a private detective to sort things out. Not quite what you were expecting? Never fear, because the private detective in question promptly takes Hollys eight standard drinks and raises her a bottle of spirits, to rather, er, deathly results. Fortunately, this time Hollys willing to step up 'her sleuthing game, although this is a decision she quickly comes to reconsider.
Despite her best efforts to remain under the radar, 'newly-crowned PI Holly finds herself being driven around in a hearse chauffered by an Elvis tribute performer, enduring the crazed shrieking of an elderly woman convinced that Andrew is dead and hidden in her house, hunting out would-be cheating wives, avoiding action film-loving hitmen and providing economic guidance to a psychic. Its a comedy of errors, and Holly is doing little to set things straight: rather, its her endless fiddling thats causing Rome to burn, and oh how it does. One of the underlying themes of this novel seems to be that of honesty and coming cleanand just about every sordid (and hilarious) situation in this novel could have been avoided had those in the middle of things simply spoken up, as Holly, feeling rather drained after an undercover gumshoe effort at a hotel goes terribly wrong, rather belatedly realises herself.
Although the novel does start a little slowly, with the blow-by-blow, Titanic-esque depiction of Hollys failing relationship with Andrew dragging somewhat, and the very inclusion of OBrien at all seeming somewhat questionable, thing really do kick into gear once the pathetic detective kicks the gin pail. The moment Holly transforms from dazed vagrant to no-holds-barred (if admittedly bumbling) PI, the plot not only revs up, but Rowes knack for humour really begins to shine. The cast is, as is almost always the case with a semi-rural Aussie novel, a motley assortment of kind-hearted weirdoes (with a few evil weirdoes thrown in for good measure), but Rowe manages to keep it all together ready for a satisfying (if rather gruesome) reveal. Admittedly, the array of characters trotted outwe get everything from an elderly phone sex worker to a fastidious pest controller to some surprisingly mercenary hippiesis a little dazzling at times, but one suspects that we may see a few of these faces again in future. And now that Hollys well and truly comfortable in her role as a PI, I suspect that the next installment of her adventures will start of with a bangIll be looking out for it.
Rating:





(very good)
With thanks to Allen & Unwin for the review copy
Your turn: do you think that the chick-lit and mystery genres work well together? Why, or why not?
Purchase Love, Honour and OBrien from The Publisher |'Amazon | Book Depository UK | Book Depository USA | Booktopia
(RIASS receives a small commission for any purchases made using the above links)
Other books by Jessica Rowe: