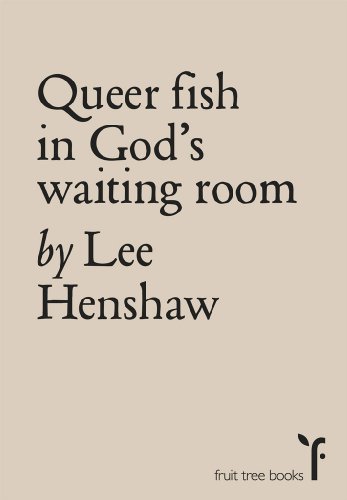 Queer Fish in Gods Waiting Room is an unlikely titleand indeed has an unlikely titlebut its one that I suspect will generate more than a little buzz. A slightly crazed, dadaist road-trip romp, the at times pained and laconic voice mixes giddily with the unabashed madness of William S Burroughs (his Junky days, not the cut-up poetry days), and for me, the gloriously self-indulgent work of Martin Clark (see our review of The Many Aspects of Mobile Home Living).
The novella follows a trio of pommy ladsnarrator Liam, his younger brother Brother James, and their mutual comrade Ed Loveras they trek about the world on a boozy, junk-food fuelled holiday. Destinations like New York, 'Mexico City, and Venezuela loom large against the starkness of life in working class Macclesfield, and the three push the bounds of responsible drinking, political correctness, and good taste at every available opportunity.
But what could easily be an inhuman dirge is far from it. Henshaws gonzo approach knits fascinating characters from a few tiny details, and the sense of alienation of these three would-be worldly lads is at all times palpable. Despite the constant big-noting and bragging and preternatural amounts of alcohol consumption stippling this books pages, the fragility of these individuals, and of their relationships, is superbly rendered. Their extended holidays, where pizza and booze and dope, not their exotic environs and the fascinating and foreign cultures in which they find themselves, are invariably the focus, underscore their existential pointlessness, and as the book progresses we see how tenuously each character is clinging to the lifestyle of their shared youth.
While all three happily mire themselves in a morass of seediness both while on holiday and when back at home, theres a sense of desolation that becomes all the more apparent, and we watch as the paths of the characters lives gradually diverge, despite their best efforts to avoid this. While the misogynistic bravado of the characters grates, a final scene between Liam and Brother James helps set things straight.
Theres a good deal to like here, although I suspect that much of my enjoyment came from the fact that I listened to the audio version of this book, which is superbly narrated by Adrian Pasdar (Nathan Petrelli on Heroes). For the most part, Pasdar does a fabulous job of bringing this book to life, although one does wonder at the wisdom of having an American read a book narrated by a pom (its very odd listening to an American say mate, and lets not get me started on his attempts at an Australian accent). Pasdars careful, nuanced reading makes mellifluous work of scenes that I suspect might drag a little on paper, or which Id likely skim over.
While theres no doubt that this slim read is immensely enjoyable in many ways, it does struggle under its own weight at times. The incessant relay of quips often feel as though theyve been shoehorned into the prose, and every now and then one gets the sense that this book started out as a collection of witty quotes noted down in a notebook. Moreover, given that the author used this book as a way to propose to his girlfriend (aww), the ending disappoints somewhat, feeling perhaps a little mawkish and pat given the rather hilariously desultory preceding events. Still, its a worthy read, and I recommend getting your hands on the audio version if you can.
Rating:





(very good)
With thanks to Fruit Tree Books for the review copy
Purchase Queer Fish in Gods Waiting Room from Amazon | Book Depository UK | Book Depository USA
Fruit Tree Books has given us 100 free copies of Queer Fish in Gods Waiting Room to give away. Click the link below to download your free copy!