Its time for the Under the Sea Giveaway hop, hosted by I am a Reader, Not a Writer and The Musings of ALMYBNENR. Im giving away a copy of'The Sea of Trolls by Nancy Farmer, which is a book that I have had on my TBR for far too long now, and which this hop has inspired me to get to over the next week (stay tuned for a review). Below is a little bit about the book, as well as the Rafflecopter form to log your entry. The giveaway is open to all.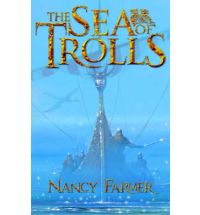 Jack was eleven when the berserkers loomed out of the fog and nabbed him. It seems that things are stirring across the water, the Bard had warned. Ships are being built, swords are being forged.

Is that bad? Jack had asked, for his Saxon village had never before seen berserkers.

Of course. People dont make ships and swords unless they intend to use them.

The year is A.D. 793. In the next months, Jack and his little sister, Lucy, are enslaved by Olaf One-Brow and his fierce young shipmate, Thorgil. With a crow named Bold Heart for mysterious company, they are swept up into an adventure-quest in the spirit of'The Lord of the Rings.

Award-winner Nancy Farmer has never told a richer, funnier tale, nor offered more timeless encouragement to young seekers than Just say no to pillaging.
a Rafflecopter giveaway
Click here for a list of the other participating blogs
(and while youre here, why not check out our list of books about mermaids?)