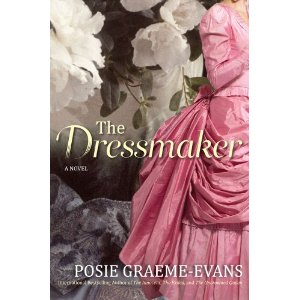 With a best-selling trilogy about Anne de Bohun and the extremely popular television show'MacLeod's Daughters under her belt, it's clear that Posie Graeme-Evans has a particular love for strong female characters. But by strong I don't mean that frustrating and problematic archetype that has become all too common in fiction of late, where strength has become confused with coldness, callousness, and a propensity for butt-kicking. But with Graeme-Evans, independent doesn't equate to aloof or selfish; determined doesn't equate to intransigently uncompromising; and self-assured doesn't equate to crude arrogance, and I must say that it's 'refreshing to read a book where the protagonist doesn't simply spew lines of vitriol and snark as a proxy for being empowered and forthright. (Of course, given that in this novel we're working with 19th'century England, all of this has to be taken with some concession to that whole suspension of disbelief thing. But given Graeme-Smith's ability to write sympathetic characters and slot them neatly against a rich and sumptuous background, this was a grain of salt to which from the outset I was willing to cling.)
The darling of'The Dressmaker is Ellen Gowan, whose tumultuous life we trace from her childhood through to her mid-twenties. Throughout the book, Ellen is positioned as an outsider, as someone who rarely defers to social mores even, ironically, in those cases when she tries so very hard to do so. Shes witty and clever, with an intelligence due less to the intangible innate than to the value she places in scholarship, something her father has always valued highly and has sought to nurture in her. But such notions are unfortunately ahead of her time, as her perspicacious ways serve only to alienate her from rather than endear her to her fathers other students, all of them boys, and of course their parents, none of whom see it fitting that a young girl should be exposed to learned subject matter. This war between the feminine and masculine worlds, and the notion of which is appropriate for each, is highlighted throughout the book, but perhaps most tellingly (and prophetically)'when as part of her thirteen birthday celebrations Ellen is given a stunning gown that entices a fellow student, one who has never before shown interest in her, to make an advance. Ellens parents, both proud and just, stand by their daughter, although they accept that their already difficult lifestyle (despite being well-educated and well-bred, they are both estranged from their families as a result of their marriage, and rely on Ellens fathers pitiful tutors salary) will soon become more so. But to what degree they have no idea: Ellens father is promptly (and dramatically!) killed in a chapel, as though struck down by the hand of God for his behaviour, and Ellen and her mother are forced to seek refuge at the home of Ellens aunt and her cruel and controlling husband Isidore.
Here, too, Ellen is an exile of sorts, existing in an uncomfortable in-between space in the household, her education and confidence drawing the loathing of her harsh new governess and challenging her uncles sense of propriety. Here too its possible to tease out not only gendered expectations, but also the importance of class and background: Isidore will always loathe Ellens mother for having married poorly for love, and clearly fears any potentially damaging influence to the prospects of Oriana, his own daughter. Indeed, while Ellen seeks comfort with Oriana, with whom she develops a fast friendship, she is increasingly aware that she and her mother hold a tenuous position at best within the household, and it is one that they walk with a sort of tentative terror. Though Ellen throws herself into her studies, excelling not only at her core subjects but also demonstrating considerable artistic flair, as time passes she is unable to deny that the goodwill upon which they are relying is quickly dissipating. Things come to a head when Ellen encourages her cousin to admit to her father her love for a wealthy, but common, young man, and it is with a sense of deja vu that Ellen and her mother are once more homeless and unsupportedthis is, of course, the second time that Ellens mother has been forcibly removed from the family for reasons of love. Ellen and her mother eventually settle into a new life where Ellen turns her skills towards fashion, working as an apprentice dressmaker to cover their daily expenses. But again, it seems that Ellens skills and quick-wittedness are a curse, with her punishment this time being her mothers short-lived battle with tuberculosis.
Ellen, now a young orphan in an unfamiliar city, momentarily admits defeat, and turns on her skills and heretofore impressive self-sufficiency, which she sees as resulting only in a pointed torment that seeks to challenge her pragmatic efforts to overcome the limitations of her class and gender.'Ellen perhaps misguidedly, perhaps through a temporary self-loathing, seeks refuge this time in a hasty and desperate marriage to the handsome but dastardly Raoul de Valentin, but it is a union that leaves Ellen in a dark and tormented state with only her skills and fortitude to support her. But of course, this is a rags to riches type story in the vein of overcoming adversity through sartorial splendour, and we watch in admiration as Ellen determinedly drags her life back on track, doggedly applying herself to her craft until things begin to turn aroundand goodness, how they do.
I have to admit that after its slow beginning, I delighted in this book almost until the very end. Its formulaic, of course, and unabashedly so, and there are vanishingly few places where the reader finds themselves anticipating any sort of astonishing plot twist: rather, the story pans over a decade of Ellens life, drawing back to look on with a bit of schadenfreude as she finds herself in some terrible lows, and then glorying with her in the fabulous things to come. Coincidences abound, and long-lost acquaintances and lovers pour out of the woodwork like an infestation of termites, but this is all part of the fun, and a confident author like Graeme-Evans can, and for the most part does, pull it off. The author not only loves romping about in unlikely narrative scenarios, but also delights (to the equal joy of the reader) in sheer unfettered melodrama. Shes certainly not shy of kicking her characters whilst theyre down: poor Ellen, despite being a genuinely lovely character who works hard to right any past wrongshers or otherwiseand to work herself into a position of substantial respect and success, is constantly surrounded by death and despair, with her family and friends dropping like flies every time she makes a decision. Its an interesting notion, that of a character being punished for being ahead of her timewhich Ellen undoubtedly is, but our disbelief is amply suspended, so never fearand for daring to make choices that are at odds with gender expectations. Ellen, though, is so inalienably motivated that she presses on regardless of the costs of doing so, evoking in the readers mind that more modern conception of the woman who sacrifices everything in the pursuit of a dream. Graeme-Evanss approach to this is quite interesting, however, and she seeks to problematise this notion throughout the novel, which culminates in quite a challenging turn in the final few pages; one can imagine some quite fiery discussions about social norms and expectations, gender, feminism, self-sufficiency, and compromise at book club as a result!'Readers may find the ending a little rushed, weirdly sentimental, and unmotivated by the previous logic of the plot, but considered thematically rather than at a plot level, I think it perhaps is fitting to the book overall. Indeed, the book itself is strongest when considered thematically rather than on narrative terms, as Graeme-Evans cleverly works to bring in certain thematic parallels and allusions that act as neat sign posts and foreshadowing. The recurring motif of the dress, for example, and the fact that its appearance is always a prelude to some dramatic turning point, is sewn in (pardon the pun) quite gracefully.
Where there are weaknesses, however, other than in the plot, which does rely very heavily upon the crutch of coincidence (and of sudden deaths), is at the prose level. Graeme-Evans is overall a confident writer, blending a modern authorial voice with that of an earlier era, but there are notable jarring instances that serve rather to pull the reader out of the bookthe sudden and rather vertiginous point of view switches being a rather frequent case in point.
Still, The Dressmaker is written as a soap-operaesque historical novel about an unlikely, but fabulous, heroine who really does work to make the best of what a certain childrens author would label a series of unfortunate events, and Graeme-Evans accomplishes this goal admirably. If you have a thing for gusty women who err on the side of nice rather than towards snarky, and cant go past a rich setting 19th century setting filled with beautiful fashions and English ostentation, then youll enjoy spending an evening snuggled up on the couch with this novel.
Rating:





With thanks to Simon and Schuster Australia for the review copy.
Purchase The Dressmaker.
Other books by Posie Graeme-Evans (click the covers for more information)