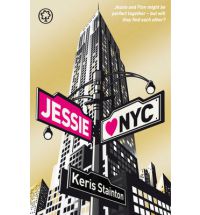 When Manchester teen Jessie is sent off with her best friend Emma for a summer in bustling New York, its a dream come true. Jessie is itching to put some distance between herself and her erstwhile boyfriend, and a few months in the city shes spent her life longing to visit sounds like the perfect salve for her emotional aches and pains. The only issue is that shell be staying with her mother, a playwright to whose work Jessie has always played second fiddle (or perhaps understudy is the better word choice). But Jessie finds that the harried, distant mother that she remembers is not the reality she thought it was, and amongst the skyscrapers and avenues Jessie and her mother slowly rebuild their fragile relationshipand as a bonus, Jessie heals her broken heart in the arms of the sweet and humble Finn.
The bright and sunny nature of this book is reflected in its ultra-slick cover, which sums it up quite well indeed: its about big buildings, rubber-necking, and touristy happy snaps. Staintons sophomore effort reads like a Hollywood film-inspired tour guide of New York, with all the major landmarks pointed out and made familiar via their appearance in Sex and the City, When Harry Met Sally'or The Seven Year Itch. But given that this breezy novel is pitched a a tween audiencemeaning that some of them may well have been born after the year 2000! goodness!I cant help but wonder whether these nostalgic titles might be completely unfamiliar to the target market.
But for all its Carrie-referencing, Jessie Hearts NYC'plays it about as safe as it gets. The characters are all nice enoughand by that I mean all' nice enough, with the possible exception of the evil ex whose horrid nature is never actually touched upon let alone explicatedand are happy to spend their days strolling about eating gigantic meals and taking happy snaps. Where there is any potential conflictJessie and her mother, love-interest Finn and his protective parentsStainton pours water on the fire before we get so much as a whiff of smoke. While its admittedly a relief to not be reading an issues novel, a little bit of conflict would go a long way to ramping up the readers interest.
The major plot element of the novel is Jessie and Flinns constant crossing of paths, which although sweet isnt especially interesting. Jessie sees Finn at breakfast. They smile. Jessie sees Finn at the Empire State Building. They smile. Jessie sees Finn at a party. They smile. And so on. Points to Finn for not being a terrifying googly-eyed stalker, but it would have been nice to see something done with the whole serendipity/fate thing. I get the feeling that this would work well on-screen, but in a novel it just feels as though the characters are being pushed around like chess pieces by an apathetic gamer.
Other than the asymptotic paths of the two main characters, the main focus of the novel is on the relationships between the main characters and their parents. Jessies relationship with her mother is ostensibly strained, and is positioned as being a key conflict/turning point. But neither of these characters has enough depth to make this conflict at all believableand the same is true of Finn, whos angsting about his future career choices, and his parents. The result is a distinct anticlimax, particularly when nothing else of note happens throughout the novel.
Jessie Hearts NYC'is a light read that will appeal to the Big Apple-infatuated, but that lacks a strong driving plot or the characterisation necessary to make it anything more than a lazy travel narrative. Its likeable and inoffensive, but theres nothing much else to it.
This book was read as part of my participation in the MS Readathon, a charity event that supports multiple sclerosis research. If you would like to sponsor my efforts, you can do so'here. All donations are tax deductible.
Rating:





(okay)
With thanks to Hachette Australia for the review copy
Purchase Jessie Hearts New York from Amazon | Book Depository UK | Book Depository USA
Other books by Keris Stainton