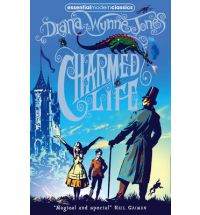 Young Cat has always played second fiddle to his powerful witch-in-training sister, Gwendolen (partly, of course, because Gwendolen turned his first fiddle into a cat, but thats another story altogether). But while Cat is happy to lead a quiet, unremarkable life, Gwendolen has far grander aspirations, among them such things as becoming the ruler of the world. So when the great magician Chrestomanci takes them under his formidable wing, Gwendolen finds initially herself quite in her elementat least until Chrestomanci fails to heap upon her the overweening adulation and adoration she expects. 'Gwendolen, never one to go down without a fight, is determined to make herself noticed, and cooks up all manner of mischief in her efforts to have Chrestomanci recognise her talents. But Gwendolens stunts quickly turn from the quirky but benign into the cruel and callous, and Cat quickly learns that his sister is far more formidableand awfulthat he might ever have expected.
My thoughts
Although having partaken in the filmic delights of Howls Moving Castle, my first introduction to Diana Wynne Joness work was last year, with another of her Chrestomanci books (see my review). Needless to say, I was quickly converted, and can be counted amongst those who will happily spend time at the shrine of her oeuvre. Comparisons with the work of JK Rowling are common, and not without good reason, as both employ a similarly plummy sense of humour, burst with joyful creativity, and arent afraid to get their writing hands dirty with some complex and challenging themes. But Wynne Jones has been in the authorial ring for far longer, and it shows in the supreme confidence of her writing. Everything, from her style, to her characterisation, to her plotting (with one key exception in this book, admittedly) just works so very well.
The Chrestomanci novels are set in an alternate England that has some glorious steampunk undertones, but without the empty obsession with lace and ridiculous mechanical gadgets. Take the key junctions in history throughout the ages, invert the results, and youll have Joness foppish, arcane, and slightly brutal world. 'Key to her success, I think, is her ability to draw her worlds so beautifully and believably without doing so in an overt manner: the reader is swept along by a world that simply is, and her friendly, matter-of-fact tone makes it hard not to believe her journeys into all things whimsical and odd. Her characterisation is superb, too: while in the hands of a lesser author, Cats dogged loyalty towards his truly horrid sister might have been a weak point, Jones makes it utterly believable. We see Cat as someone who is utterly lacking in confidence, and who relies on his sisters steamroller-like personality to help him navigate the waters of life. An orphan and someone with no apparent stand-out abilities, Cat has little recourse but to walk firmly in his sisters shadow. But whats fascinating is when certain plot events later reverse this relationship, and we see that its actually Cat holding the reins, although unwittingly so. In fact, the story truly is about Cat, rather than Gwendolen, no matter how much it may initially seem that the reverse is true.
There are other myriad instances of fabulous characterisation throughout the book, and those who typically find themselves digging about for character-related gems will come away with a rich seam of gold. The stoic and disinterested Chrestomanci is beautifully rendered, and looms large despite the relatively small amount of page space he is given. What is perhaps the most interesting is how the other characters react to him, and indeed to each other, rather than to simple external factors, and it is very much this element that makes the novel as a whole feel so organic. In fact, theres really only one plot element that doesnt work for me, and thats Gwendolens sudden vanishing off into another dimension. While her doing so sets the events for the second half of the novel (think doppelgangers, dragons blood, and evil creepies) rolling, it feels a little bit too abrupt and convenient, and I would have liked to see this teased out a little more for the sake of clarity and believability.
This second act brings with it quite a bit of darkness, and while Jones doesnt shirk from these concepts, she does give them a touch of levity to make them more palatable to her middle grade audience. Gwendolens treatment of Cat finally comes to the fore, and we see how truly grim and foul she is as an individual. These scenes deal with mortality and the value placed upon lifeboth ones own life and those of othersand when we learn the truth about Gwendolens behaviour and her justification for it, its hard not to be horrified. Karma and the repercussions of ones actions are examined, although in a fascinating way that crosses dimensions, and which raises issues all of its owndoes it matter what we do if our results dont affect our immediate existence? Theres certainly a lot that could be discussed here about responsibility, morality, and interrelation, but Jones avoids proselytising.
On a prose level, Joness work is simply sublime. Shes not the invisible prose plate glass writer that so many seem to aspire to berather, her style is rich, vivid, and has that striking old-fashioned tone reminiscent of bed-time stories. Her hilariously jaded narrator wedges his- or herself firmly between the reader and the story, and in doing so adds an extra layer of depth and story that might not otherwise be there. Careful wordplay and historical allusions abound, and there are instances of such wit that its hard not to crack a smile or two even when reading in public.
Conclusions
Diana Wynne Jones is beloved amongst her readers, and truly its no surprise that this is the case. Her work is fresh, creative, and infinitely appealing, and theres a complexity and thoughtfulness to it that will engage those who typically pooh-pooh fantasy. Her world-building is skilled and thorough, and theres a welcome sense of place to her work thats often absent in similar books; similarly, her characterisation is clean and unaffected, and feels both organic and genuine. Whether youre a new or a veteran Jones reader, Id hasten to pick up this book.
Rating:





(excellent)
Purchase Charmed Life from Amazon | Book Depository UK | Book Depository USA
See also our review of The Magicians of Caprona (Rating:





)
Other books by Diana Wynne Jones: