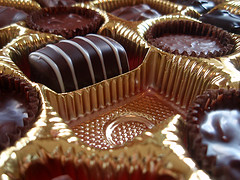 If asked to pick from a list of favourite foods, were fairly certain that most of our readers would promptly select something chocolate based. Unfortunately, doctors and nutritionists worldwide recommend that, given the rather calorically dense nature of chocolate, we only consume a'minuscule'amount each day. Wheres the fun in that? However, whilst consuming inordinate amounts of chocolate can result in side effects such as pants that seem to have shrunk in the wash, reading about it is entirely guilt-free!
Below is a list of books that chocoholics might find quite appealing indeed. Still, if reading about chocolate is enough to make you reach for a box of the good stuff, perhaps you might be better off perusing our'books about coffee'instead.
Enjoy!
____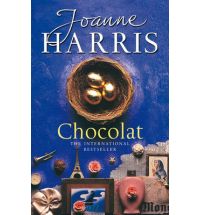 Blurb:'Try meTest meTaste me. When an exotic stranger, Vianne Rocher, arrives in the French village of Lansquenet and opens a chocolate boutique directly opposite the church, Father Reynaud identifies her as a serious danger to his flock especially as it is the beginning of Lent, the traditional season of self-denial. War is declared as the priest denounces the newcomers wares as instruments of murder. Suddenly Viannes shop-cum-cafe means that there is somewhere for secrets to be whispered, grievances to be aired, dreams to be tested. But Viannes plans for an Easter Chocolate Festival divide the whole community in a conflict that escalates into a Church not Chocolate battle. As mouths water in anticipation, can the solemnity of the Church compare with the pagan passion of a chocolate eclair? For the first time, here is a novel in which chocolate enjoys its true importance, emerging as a moral issue, as an agent of transformation as well as a pleasure bordering on obsession.
____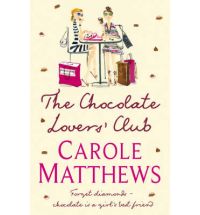 The Chocolate Lovers Club'by Carole Matthews
Blurb:The Chocolate Lovers Club'brings together four very different women with one thing in common: they cant resist chocolate. This is an irresistible novel for anyone who wishes they were a member! Lucy Lombard cant resist it rich, creamy, sweet, delicious chocolate. For her theres nothing it wont cure and shes not alone. Sharing her passion are three other addicts: Autumn, Nadia and Chantal. Together they form The Chocolate Lovers Club. They meet in their sanctuary, Chocolate Heaven, as often as they can, and with a cheating boyfriend who promises hell change, a flirtatious boss, a gambling husband and a loveless marriage, theres always plenty to discuss!
See also: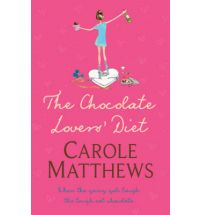 ____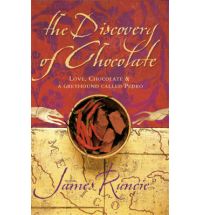 The Discovery of Chocolate: a novel'by James Runcie
Blurb:'A wonderfully inventive and entertaining journey through time and the history of chocolate! The Discovery of Chocolate is a fabulous tale, as rich and exotic as the gorgeous creation that Diego de Godoy first discovers when he arrives in Mexico with Cortes and his conquistadors. Diego is seeking his fortune in the New World. What he finds is love, and chocolate, and an elixir of life. Separated from his lover, he must wander the world, and the centuries, in search of the fulfilment that he first knew in Mexico. In a series of dramatic episodes that are evocative, witty and thought-provoking, from revolutionary Paris to Freuds Vienna, Frys Bristol and Hersheys Pittsburgh, Diego and his ever-faithful greyhound, Pedro, seek the perfection of chocolate and the meaning of life.
____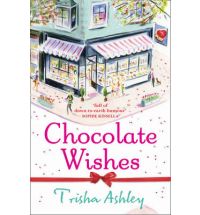 Chocolate Wishes'by Trisha Ashley
Blurb:'Life is sweet for chocolate maker Chloe Lyon! In the picture-perfect Lancashire village of Sticklepond, Confectioner Chloe dispenses inspirational sweet treats containing a prediction for each customer. If only her own life was as easy to forecast perhaps Chloe could have foreseen being jilted at the altar! But when a new Vicar arrives in the village, the rumour mill goes into overdrive. Not only is Raffy Sinclair the charismatic ex-front man of rock band Mortal Ruin, hes also the Chloes first love and the man who broke her heart. Try as she might, Chloe cant ignore this blast from her past. Could now be the time for her to make a wish and dare to believe it can come true? A charming novel for chocoholics everywhere, perfect for fans of Katie Fforde, Jill Mansell and Carole Matthews.
____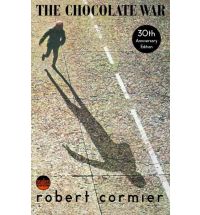 The Chocolate War'by Robert Cormier'(this book also appears on our'list of books about bullying)
Blurb:'Jerry Renault, a high-school freshman who refuses to participate in the Trinity School annual fund-raising chocolate sale, is forced to defend his convictions.
____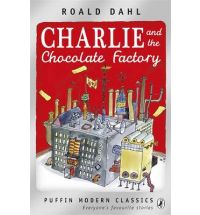 Charlie and the Chocolate Factory'by Roald Dahl
Blurb:'The gates of Willy Wonka's chocolate factory are opening at last . . . and only five children will be allowed inside.
____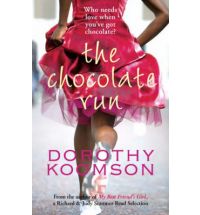 The Chocolate Run'by Dorothy Koomson
Blurb:'Amber Salpone thinks in chocolate talk to her for three minutes and shell tell you what kind of chocolate youd be. In fact, most days, if she was asked to choose between chocolate and relationships, thered be no contest. At least chocolate has never let her down. Unlike her family. Growing up in the Salpone household has taught Amber to avoid conflict and love at all costs. So, when she does the unthinkable and has a one-night stand with womaniser Greg Walterson, her uncomplicated, chocolate-flavoured life goes into meltdown. Especially when Greg announces shes the love of his life and Amber finds it hard enough to decide if she wants plain or Fruit & Nut Meanwhile, her best friend, Jen, seems to be launching a bid to become Bitch Of The Year and Ambers family are making unreasonable demands. Amber has two choices: to deal with her past and the people around her, or to go on a chocolate run and keep on running
____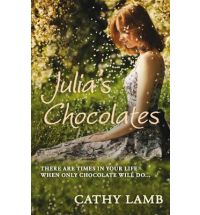 Julias Chocolates'by Cathy Lamb
Blurb:'There are times in your life when only chocolate will doWhen Julia Bennett leaves her abusive fiance at the altar, she knows life will never be the same again. Seeking comfort, she heads to her Aunt Lydias rambling farmhouse where she is welcomed by an eccentric, warm, and wise group of women. Meeting once a week for drinks and the baring of souls, it becomes clear that every woman holds secrets that keep her from happiness. What will it take for them to become their true selves? For Julia, its chocolate. All her life, baking has been her therapy and her refuge, a way to heal wounds and make friends. But it cant keep her safe. As Julia gradually opens her heart to a new life, with new friendships, and a new love, the past is catching up to her. And this time, shell have to face it head on.
____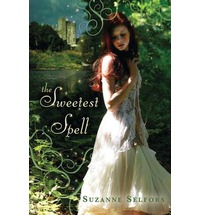 The Sweetest Spell'by Suzanne Selfors
Blurb:'Emmeline Thistle, a dirt-scratchers daughter, has escaped death twice-first, on the night she was born, and second, on the day her entire village was swept away by flood. Left with nothing and no one, Emmeline discovers her rare and mysterious ability-she can churn milk into chocolate, a delicacy more precious than gold. Suddenly, the most unwanted girl in Anglund finds herself desired by all. But Emmeline only wants one-Owen Oak, a dairymans son, whose slow smiles and lingering glances once tempted her to believe she might someday be loved for herself. But others will stop at nothing to use her gift for their own gains-no matter what the cost to Emmeline.
____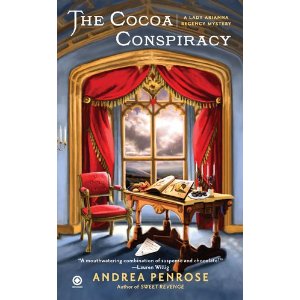 The Cocoa Conspiracy'by Andrea Penrose
Blurb:'Lady Ariannas gift of a rare volume of botanical engravings to her husband, the Earl of Saybrook, has something even more rare hidden inside-sensitive government documents which would mark one they hold dear as a traitor of King and country. To unmask the villain, they must root out a cunning conspiracy-armed only with their wits and expertise in chocolate
____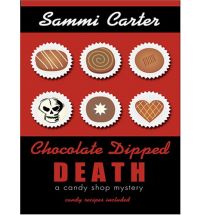 Chocolate-Dipped Death'by Sammi Carter
Blurb:'No visit to Paradise, Colorado, is complete without a stop at Divinity candy shop for a little taste of heaven. For owner Abby Shaw, its a sweet deal, too. When her aunt Grace passed away, Abby Shaw inherited Divinityand with it the opportunity to leave her career as a corporate lawyer and dump her cheating husband. Now she spends her time serving up delectable treatsand performing the occasional deductive feat
Theres no sugarcoating itno one in Paradise can stand Savannah Horne. The former local girl is now the trophy wife of a ridiculously wealthy businessman. And shes swept back into town just in time to enter Divinitys Tenth Annual Confectionary Competitionand stir up trouble. But someone bent on sweet revenge will guarantee that Savannah wont make it out of Paradise alive, trapping Abby in a case stickier than her gooey taffy
____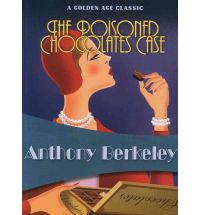 The Poisoned Chocolate Case'by Anthony Berkeley
Blurb:'Reissue of one of the great puzzle mystery classics of Englands Golden Age of crime fiction; plot involves a group of upper-crust amateur sleuths who set out to solve a murder that has baffled Scotland Yard; catnip for fans of Agatha Christie and Margery Allingham.
____
Chocolate Secrets'by Zelda Benjamin
Blurb:'When the Martinelli family chocolate shop display goes up in flames at a Brooklyn street fair, fate throws Alex Martinelli and Mike Simone together. Alex, an ER nurse with a passion for reading her daily horoscope, has several valid reasons not to get involved with Mike, an NYC firefighter. An alliance between a true water sign and a man whose element is ruled by fire makes them an unlikely couple. Even worse is his connection to the man who stole her grandfathers secret chocolate recipe. But the sexy hero always seems to show up when she needs him most. In return for his heroism, Mike only wants two things from Alex: a chance to prove he is her soulmate and her grandfathers secret chocolate recipe. In his quest to get the recipe and win the city-wide bake-off, Mike puts his relationship with Alex at risk. Alex tries to deny her destiny, but Mike is determined to melt her heart.
See also: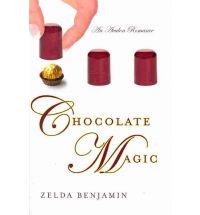 ____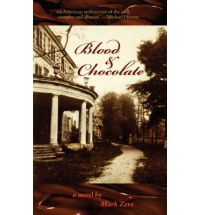 Blood & Chocolate'by Mark Zero
Blurb:'When Marnie Hawthorne inherits her family fortune:a candy empire built on the world-famous Hawthorne Toffee Bar, she also inherits the dark secret her reclusive grandmother concealed for half a century. The truth behind the Hawthornes: rise from small town candy makers to international chocolate magnates is as disturbing as it is unbelievable, and the only man who knows the whole story has a reason not to tell it. As Marnie becomes entangled in the mysterious drama of her grandmothers life, she finds that her future depends on the ghosts haunting someone elses past. Spanning four generations, Blood and Chocolate tells an epic story of longing, forbidden love and the unpredictable consequences of desire.
____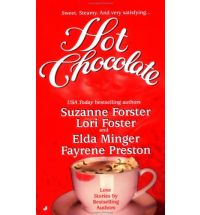 Hot Chocolate'by Suzanne Forster,'Lori Foster, Elda Minger, and Fayrene Preston
Blurb:'With delectable stories by'USA Today'bestselling authors Suzanne Forster and Lori Foster-and national bestselling authors Elda Minger and Fayrene Preston-this popular anthology is sweet, steamy, and very satisfying.
____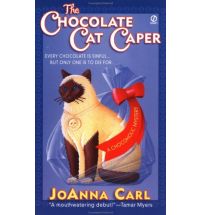 Blurb:Looking for a fresh start, divorcee Lee McKinney moves back to Michigan to work for her aunts chocolate business-and finds that her new job offers plenty of murderous treats to chew on. 'When a high-profile defense lawyer dies after eating a cat-shaped chocolate laced with cyanide, its up to Lee to find out who tampered with the recipe-before she and her aunt end up behind not-so-chocolate bars.
See also:
____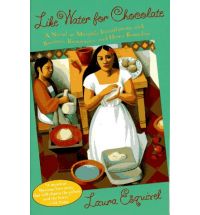 Like Water for Chocolate'by Laura Esquivel
Blurb:'Earthy, magical, and utterly charming, this tale of family life in turn-of-the-century Mexico became a best-selling phenomenon with its winning blend of poignant romance and bittersweet wit. 'The number one bestseller in Mexico and America for almost two years, and subsequently a bestseller around the world, Like Water For Chocolate is a romantic, poignant tale, touched with moments of magic, graphic earthiness, bittersweet wit and recipes. A sumptuous feast of a novel, it relates the bizarre history of the all-female De La Garza family. Tita, the youngest daughter of the house, has been forbidden to marry, condemned by Mexican tradition to look after her mother until she dies. But Tita falls in love with Pedro, and he is seduced by the magical food she cooks. In desperation, Pedro marries her sister Rosaura so that he can stay close to her. For the next twenty-two years, Tita and Pedro are forced to circle each other in unconsummated passion. Only a freakish chain of tragedies, bad luck and fate finally reunite them against all the odds.
____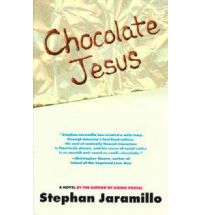 Chocolate Jesus'by Stephan Jamarillo
Blurb:'The author of'Going Postal'introduces his deliciously new novel that revolves around a self-proclaimed JFK assassination scholar who has just come up with the idea of a lifetimeChocolate Jesus.
____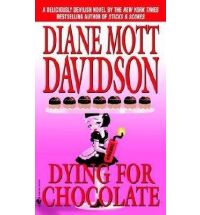 Dying for Chocolate'by Diane Mott Davidson
Blurb:'Meet Goldy Bear: a bright, opinionated, wildly inventive caterer whose personal life has become a recipe for disaster. Shes got an abusive ex-husband whos into making tasteless threats, a rash of mounting bills that are taking a huge bite out of her budget, and two enticing men knocking on her door. Determined to take control of her life, Goldy moves her business and her son to the ritzy Aspen Meadow Country Club, where she accepts a job as a live-in cook. But just as shes beginning to think shes got it madecatering decadent dinners and posh society picnics and enjoying the favors of Philip Miller, a handsome local shrink, and Tom Shulz, her more-than-friendly neighborhood copthe dishy doctor inexplicably drives his BMW into an oncoming bus. Convinced that Philips bizarre death was no accident, Goldy decides to do a little investigating of her own. But sifting through the unpalatable secrets of the dead docs life will toss her into a case seasoned with unexpected danger and even more unexpected revelationsthe kind that could get a caterer and the son she loves. . .killed.
__
Macrobertsonland'by Jill Robertson'(see my review)
Macrobertsonland tells the amazing rags to riches tale'of Australia's very own Willy Wonka, MacPherson'Robertson. Mostly lost to history, the man behind'some of Australia's (and the world's) favourite'confectionery ' including Freddo Frog, Cherry Ripe'and Old Gold chocolate ' was an eccentric self-made'millionaire and generous philanthropist whose spirit'reflected all the hopes and dreams of a young nation.'Jill Roberston (no relation!) shares the wonderful'story of this remarkable character with warmth and wit,'with just a little gossip thrown in for good measure.