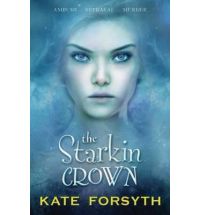 If youve ever wanted to read George RR Martin, but the thought of slogging through a dozen volumes each of a good thousand or so pages daunts you, Id suggest picking up Kate Forsyths newest offering'The Starkin Crown'instead. Honestly, this novel packs the same punch as Martins work, but in a quarter of the page count.
Forsyth has long been on my readerly radar, so when she approached me about reading her latest novel, I happily obliged. And Im rather glad I did, because theres a reason that Forsyth is so acclaimed in the YA world: shes very, very good indeed. If you need an indicator of how good, lets just say that I didnt realise that this was the third in a trilogy until I finished the book and began skimming the ads in the back. Hello, seamless world-building.
The Starkin Crown'is the type of adventure story that I would have devoured greedily as a younger reader, and one that Id happily lose myself in today: it pulls in the must-have tropes of castles and reigns under siege, dubious alliances and double-crossing, and long, painful treks through the wilderness. But rather than being the dated stuff of old, Kates work has a wonderfully modern aesthetic that takes these notions and incessantly challenges them.
One blustery night, the starkin noble Grizelda arrives at the wildkin castle Stormlinn to warn its inhabitants that they are under imminent attack by the crazed starkin usurper (and aptly named) Vernisha the Vile. With the siege upon them, Prince Peregrine, rightful inheritor of both the starkin and wildkin crowns, sets off on a cross-country journey to retrieve the hallowed Spear of the Storm King and vanquish Vernisha once and for all. But is Grizelda really who she says she is (hint: her name means dark battle in Old English)? And where do her loyalties really lie? These are questions that kind, loyal Peregrine struggles to deal with.
Peregrine is a fierce egalitarian, and like the hearthkin people he comes across in his travels, seeks to minimise social and class differences with a view to guiding rather than ruling. He seeks to heal and accept, and his outlook stands in stark contrast to the vicious, punitive means of Vernisha, whose rule is maintained by humiliation, violence, and repression. Where Peregrine seeks to engage both nature and the natural, Vernisha does the opposite: while Peregrine speaks to animals and communes with nature, Vernisha dons jewels and furs and relishes in the gap she is able to create between herself and her subjects. The idea of autocratic rule is challenged incessantly throughout the novel, with constant cries of equality and libertarianism, where different groups can live unmolested by rule from above.
The egalitarian call extends also to feminism and ableism, with the females in the novel given strong, realistic roles (other than Vernisha, who is quite deliberately a caricatureright down to the pug dog who so resembles her [but who happily redeems himself later in the novel]), and the lame Molly providing some of the most moving scenes in the book. But none of the egalitarianism seems overt, nor do things turn maudlin; Forsyth manages to do moving without doing mawkish, and the novel is, quite frankly, a delight from start to finish.
Forsyth writes confidently and tidily, and each scene is beautifully evocative, with an array of carefully worked-in details that are often far more than meets the eyeand which, if taken for the flags that they are, result in considerable pay-off down the track, as theres a good deal of mystery and intrigued worked into the pages of this deceptively slim volume. Even the most jaded high-fantasy reader will take a good deal from this clever little read. Highly recommended.
Rating:





(superb)
Purchase The Starkin Crown from Amazon | Book Depository USA | Book Depository UK
(RIASS receives a small commission for books purchased using the links in this post)
With thanks to Kate Forsyth and Pan Macmillan Australia for the review copy
Other books by Kate Forsyth: