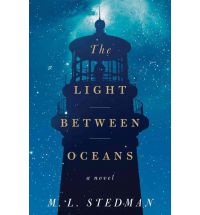 A few years ago, my husband and I visited an antiquated lighthouse at the very edge of Western Australia. It was an eerily isolated place, an icon that represented the divide between land and sea, between the order of life ashore and the buffeted, rancorous nature of life on the oceans. It was a wall of sorts: the wind was such that the trees, the shrubs, everything was pitched towards the sea, growing with a hunch-backed bentness. At the very edge of the land were more flies than imaginable: a dark haze of the things that created a wall of their own. The divide between water and land could not have been any clearer, and yet, there was a strange, alluring pull on both sides towards this lighthouse, this beacon that strove to create order out of chaos.
M. L. Stedmans The Light Between Oceans'is set in a not dissimilar context, although the lighthouse that forms the key milieu of the novel is located 'even further away from civilisation, on an island thats wrapped about by the sea. The island, aptly named Janus, for the two-faced 'Roman god who looks simultaneously in two directions, is not only physically separated from the morality and social norms of the land, but its also a place that represents the key intersection of dualityand duality is a theme that arises again and again in this book.
Janus has but two inhabitants: the lighthouse keeper Tom Sherbourne, a returned veteran, and his wife Isabel. Their existence is initially a quiet one, the couple fancying themselves as a lovestruck duo set romantically against the world, but their marriage is soon beset by the tragedy of several consecutive miscarriages. So when a boat carrying a dead man and an infant girl washes ashore, they see this moment as a karmic sign, a fulfilment of their desires to at last bear a child. But although Isabel is adamant that the childs arrival is so serendipitous that it must surely be divine intervention, pragmatic Tom is beset by the unshakeable feeling that the child, unlike Janus, could surely not exist in isolation, and that somewhere she must have a family.
The consequence, of course, is that the Sherbournes happiness is built on what can only be the misery of others, and Tom finds this a moral dilemma he cant abide. And surely enough, just like the lighthouse at Janus, the child, Lucy, becomes the light between two oceans, a force that both unites and divides. This division gradually extends and expands as Tom desperately tries to make things right by anonymously contacting a woman whom he suspects is Lucys mother, setting into motion a chain of events that render the illuminating force of the light not a halcyon savour, but rather the cause of the clash between two oceans that, much like the Indian and South Oceans themselves, are utterly different in origin, force and nature.
The paradigm of this dichotomy/duality is not only found in the relationship between the Sherbournes and their subsequent contact with Lucys mother, but also in the relationships and experiences found more generally throughout the book, and its intriguing to see how far this motif can be extrapolated across character and context. The small town of Partaguese, the closest such down to Janus, is rife with such things, with the recent WWI still looming large in the memories of its residents: there are divisions between the survivors of war and those who remained behind, divisions between class, between race, and so on, and all of them quite thought-provoking. However, its the ongoing struggle between the Sherbournes and Lucys true mother, as well as that between Tom Sherbourne and Isabel, that takes centre stage: each is convinced of the morality of his or her actions, and that, as Tom so often puts it, the lighthouse is always the first and foremost priority for a lighthouse keeper.
The Light Between Oceans'is intelligently and warmly written, and Stedman has done an admirable job of creating three central characters whom its possible to identify with and support, no matter how divergent their perspectives. The duality motif does come across as a little explicit at times, and Im not generally a fan of forefronting a later scene in order to artificially pique a readers interest, but overall its an excellent read, and one I suspect will become a firm book club favourite.
Snippet:
You could kill a bloke with rules, Tom knew that. And yet sometimes they were what stood between man and savagery, between man and monsters. The rules that said you took a prisoner rather than killed a man. The rules that said you let the stretchers cart the enemy off from no mans land as well as your own men. But always, it would come down to the simple question: could he deprive Isabel of this 'baby? If the child was alone in the world? Could it really be right to drag her away from a woman who adored her, to some lottery of fate?
At night, Tom began to dream he was drowning, flinging his arms and legs desperately to find ground somewhere, but there was nothing to stand on, nothing to hold him afloat except a mermaid, whose tail he would grasp and who would then pull him deeper and deeper into the dark water until he awoke gasping and sweating, while Isabel slept beatifically beside him.
Rating:





(excellent)
With thanks to Random House Australia for the review copy
Support Read in a Single Sitting by purchasing The Light Between Oceans'from
Amazon | Book Depository UK | Book Depository USA | Booktopia | The Nile
Book trailer for The Light Between Oceans: