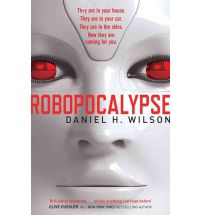 Im becoming quite the old hand at postapocalyptic and dystopian literature, and with each new outing I read in these well-trodden genres I find myself playing a sort of post-civilisation bingo. Its not just the themes and situations that recur in these novels, Im finding, but also the narrative frameworks and storytelling methods. And Daniel H Wilsons tongue-twisting debut'Robopocalypse had me ready to collect my prize straight up, for it makes use of the oh-so-popular trope of using documents and diaries to report the end of civilisation as we know it. 1984'comes to mind, as does We. Then theres'I Am Legend'and the recent'0.4 (see my review). And thats just off the top of my head. Dystopian literature is all about the epistolary format, it seems.
But while the format can be beautifully exploited (Dostoyevsky, Im looking at you), it obviously has certain limitations, and these can in turn serve to hobble an otherwise solid novel. Unfortunately, in the case of Robopocalypse, it makes for a rather fragmented, distanced read, with the novel a not especially coherent patchwork of different perspectives awkwardly knitted together in what might make for a visually appealing Spielbergian montage (oh dear, I just googled this, and my little jest has been undermined by the fact that Spielberg will indeed be directing the forthcoming film), but a rather less successful book.
But its not just the epistolary format of the novel that drags Robopocalypse'down. This format, of course, is part of the issue, shoehorning each scene as it does into a painfully formulaic episode and functioning as a sort of literary bookend.'Theres also the array of characters whose lives we dip into but never really touch, and which never really move beyond cliches and stereotypesand which are further limited by the geographic narrowness afforded by Wilson, who never allows things to move much beyond the US (with a bit of obligatory Gibson-esque Japan thrown in). Third, but certainly not last, theres the absolute inevitability of the plot, which is telegraphed about as boldly as possible at the very beginning of the novel.
Plotwise, we have something along the lines of this. Part 1 features unsuspecting humans being caught unawares by 'supersmart toasters turned evil and robots that start off as R Daneel Olivaw and end up as Arnie (with the odd scientist-robot love story and possessed childs doll thrown in for good measure). Part 2 comprises civilians-turned-badass-soliders beating the circuits out of their metallic foes. (And you know as well as I do that Spielberg needs a happy ending to take something on.) And from first to last page were treated to dialogue that sounds as though its been run through a text-to-speech program.
But the book is blatant not only in terms of its prose and plot, but thematically as well. The author has a roboticist background to commend him, but unfortunately it seems that the refrain about academics being divorced from the real world rings rather true here.'Robopocalypse'attempts to deliver a damning indictment of human greed and laziness while all the while pondering what it truly means to be human, and you can just about feel the authors anguish as he nuts this out on the page. But one cant help but feel that this all feels a little flat given the libraries ofmuch betterstuff that have been published on the topic, and with much greater incisiveness and subtlety. Goodness, Terminator'was less direct.
Robopocalypse'is like a robot vacuum cleaner: glitzy, fast and futuristic, but rather less effectual than one might hope. With its film treatment-style prose and its love of big bad action cliches, its certainly a quick read, but by no means a memorable one.
Your turn: whats your take on made-for-film books?
Rating:





(okay)
Purchase Robopocalypse from Amazon | Book Depository UK | Book Depository USA | Booktopia
With thanks to Simon & Schuster Australia for the review copy
Other books by Daniel H Wilson: