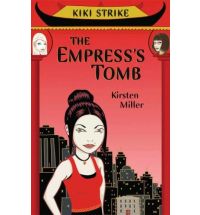 Im an unabashed pusher of middle years and young adult books with feminist themes and characters, and Kirsten Millers work epitomises the sort of girl-power stuff I might hide beneath my bookish jacket. Jonesing for some strong, well-rounded female characters eh, eh? A plot that doesnt revolve around a boy? I can hook you up right here.
Admittedly, the first Kiki Strike novel left me feeling slightly ambivalent, in part because of the awkward structure of the novelthe several year gap that occurred in the middle of the book threw me somewhatand the bevy of characters that did become somewhat interchangeable in their overwhelming fabulousness. However, the first in this series hinted at superb things to come, and in her second foray into the world of Kiki Strike and her troupe of Irregulars, Miller delivers.
Hot on the heels of having foiled the murderous efforts of the royals of Pokrovia, Kiki Strike is in search of adventureagain. One of Kikis bugbears is the fact that the Irregulars explorations of the Shadow City, a secret series of tunnels beneath New York, remain incomplete. Determined to map the rest of the Shadow City, Kiki wheedles bookish Ananka Fishbein into roaming through the catacombs with her. But the girls soon find that the seemingly deserted Shadow City is perhaps not entirely so: in their travels they find a Chinese figurine that hints at a recent occupation.
Their discovery leads to all manner of complicating factors and bizarre, curious reveals, and Kiki, Ananka and the Irregulars find themselves caught up in a complex series of events that have them questioning everythingand everyonethey know. The main plot thread is a neatly woven mystery involving people smuggling and art forgery, and in a manner that hits all too close to home for the girls. But in addition to this theres Kikis mysterious and increasingly common absences, Anankas possible expulsion from school, and Oona Wongs out-of-character behaviour. Oh, and a series of squirrel attacks that has New York trembling in its designer boots.
Theres no denying that Kiki Strike'veers into outlandishness on a regular basis, but it does so in such charming, witty style that its hard to chastise it. Theres an abundance of oddities everywhere one cares to look, with highlights including crazed but well-meaning homeless people, rabid wildlife, ultra-evil psychologist parents, hungry ghosts, and bucolic schools where fromage-making and pig-rearing are core subjects. And all this against an elegant, intelligent backdrop involving art smuggling and kidnapping. This book shouldnt work. Its elements are disparate and over-the-top, and alternate between deadly serious and whimsical frippery. But it does. Miller somehow treads that line, and does it while incorporating likenesses of squirrels into famous works of art.
One of the strengths of the Kiki Strike'books is its strong female characters, and the fact that there are so many women in not just lead roles, but also in secondary roles and walk-on roles. Where for many authors the default setting is male, Millers is female: if were introduced to a character, shes a female until stated otherwise. But although both books in the series so far celebrate strength and kick-buttness, this second one does so in a much more nuanced way, with the characters allowed more depth, and more weaknesses. This concession only contributes to their strength, and there are a number of thoughtful, moving moments in this slim volume that will give the reader pause.
Finally, one of the elements of the novel that pleased me the most was the love storyor rather the lack of it. Where the Gallagher Girls books, which run along similar lines thematically, essentially revolve around boys and romantic interests, Kiki Strike'offers a departure from this in a way that is not just refreshing, but also a relief. The first in the series was essentially devoid of boys, and although a young chappie pops up in this second outing, getting his interest does not become the main path of the plot. And indeed, its rather nice to see the girls take charge and contemplate whether or not they really want a guy around, rather than leaping headlong into an affair for the sake of some male attention.
If youre after a ludicrous, wonderful romp through (and beneath) New York, and youre happy for a group of clever, no-nonsense teens to be your guides, then you could do a lot worse than to pick up this book.
Rating:





(excellent)
With thanks to Simple Schooling for the review copy.
Support Read in a Single Sitting and purchase this book from:
Amazon | Book Depository UK | Book Depository USA | Booktopia
See our review of Kiki Strike: Inside the Shadow City
Your turn: who are your favourite strong female characters?
Other books by Kirsten Miller: