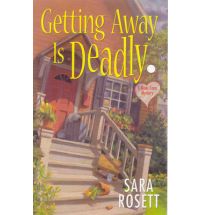 Ellie Avery isnt barefoot and pregnant in the kitchen, but she is'pregnant, and stands little hope of putting up her feet any time soon. Despite being an organisational guruEllie runs a tidying business called Everything in its PlaceEllie finds herself dealing with the unanticipated more often than not. And unfortunately the unanticipated usually involves dead bodies. So much for everything being in its place.
In this, the third in Sara Rosetts military mom cozy series, the bub-carrying Ellie has high hopes for her vacation in Washington DC with a bunch of other military wives. For the first thirty or so pages its all happy snapping, monument gazing, Hershey munching, and skort toting, but then a dratted murder gets in the way of things: a man falls to his death after being pushed from a railway platform. But things take a turn for the worse when the dead bloke in question is linked to Ellies off-with-the-fairies sister-in-law Summerand when what looks like photographic proof of Summers being at the murder scene appears.
And if the whole absolving-her-sis-in-law-from-murder-accusions thing isnt bad enough, Ellie finds herself roped in to making over the bedroom of the kid of a senate hopeful. Yes, in between harassing witnesses and foiling all sorts of naughty types (there are plenty of naughty types in this bookmore on that later), Ellie is picking out shoe organisers from Ikea and providing artistic direction for a princess wall mural.
Okay, mandatory murder and quirky subplot. Thats plenty to go on with, right? Well, apparently they do things differently in DC, because this book has more crime in it than the most notorious of Panama jails. We have illegal immigrant marriage schemes being brokered for military bonuses, a sudden influx of terrorists hanging out at hotels, and a cross-dressing ex-Korea veteran with some serious post traumatic stress disorder going on.
Its a bit like a box of Cadburys Roses chocolates: one or two different flavours you can handle (if you dont mind Cadbury chocolate), but when you start mixing peppermint with strawberry with Turkish Delight things get a little out of hand. And narrative-wise, thats what happens here. Its a problem Ive come across in the past few cozies that Ive read: the desire to pack as much into a tiny paperback suitcase a possible (perhaps its the organisational fiend in Ellie?), and it has me a little perplexed. Ill happily take a simple but well-executed plot over one where aliens leap out of the between-chapter aether any day, and I think this book would have been a lot stronger had some of the subplots been taken out and moved to another in the series. And speaking of in-between chapters, the organisational tips were a mixed bag for me. Some offered the odd bit of sagacity, while others (google your destination [really!] and keep separate travel toiletries at home at all time [in your dreams, luvvie!]) felt just a wee bit patronising and Stepford Wivesish.
Characterwise, Ellies pleasant enough, although her endless, endless'mentions of her pregnancy (which were noticeably absent in the one section of the book I expected her to be worried about her pregnancythe bit where shes hanging from a building) and her rather terrifying sugar consumption (goodness, get thee to a dietician, woman!) were a minor peeve to me. And although its nice for a heroine to have a chap in her life whos not a right cheating whacko, this one goes a bit too far the other wayfoot massages, breakfast in bed, and noticing every time she buys a new outfit (and how can she afford those Louis Vuitton bags, anyway?)? I thought my fellow was a good sort, but Ellies husband makes him look something out of Faust.
In all, this is a light read with some likeable moments, and with some good potential as a solid mysterybut theres too much noise going on in the background to really let this shine.
Purchase Getting Away is Deadly from Amazon | Book Depository USA | Book Depository UK
Rating:





(okay)
This book was read as part of my participation in the MS Readathon, a charity event that supports multiple sclerosis research. If you would like to sponsor my efforts, you can do so'here. All donations are tax deductible.
Other books by Sara Rosett: