Starting today, Read in a Single Sitting will be publishing a daily roundup of book news, reviews, and musing. Feel free to chime in, or to
tweet
/
email
us if weve missed something that youd like to see featured.
Book News:
A graphic novel by William S Burroughs and Malcolm McNeill about a billionaire newspaper tycoon has been acquired by American publisher Fantagraphics books, and will be published for the first time in its entirety.
Read the article
.
Puzzled by cryptic crosswords?
The Age
cryptic crossword writer Richard Astle has recently written a book for those of us not quite as switched on as he is.
Read the article
.
Speaking of brains, The University of Baltimore is offering a class focusing exclusively on zombie fiction.
Read the article
. (If thats not enough, not that Tor.com is also
running a zombie feature
all week)
Do you enjoy getting up on your soapbox to rail about who is and who isnt buying books? Make sure you get your facts straight before you do with this
article from the Seattle Times
.
Musings
Have you heard?
Fabulous Australian website Auslit is doing an AussieCon feature, which includes all manner of interviews, reviews, and musings from authors in attendance. Its definitely worth
checking out
.
Just for fun.
Todays just for fun is a bookalike. What do you think about these separated-at-birth covers?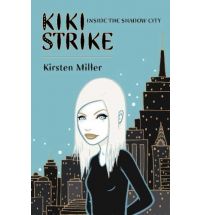 (incidentally, you can check out our review of Kiki strike here)