I know this has been a long time coming, but its taken a substantial bout of procrastination brought upon by my loved ones absence (a week-long business trip in Japanah, life is hard) to finally spur me to get around to writing this. As long-time readers of this site might know, I recently became engaged in a manner rather fitting for an unabashed lover of all things bookish. Below is the account of the whole shebang.
17 May 2011
At ten to five a rather intriguing package arrived on my desk. Being one who is rather more predisposed to seeking out the curious than meeting deadlines, I set aside my work for a moment to peruse the item. It was a small envelope with the feathery tactility of handmade paper, and decorated with the monogram J. Inside was a handwritten note that said the following: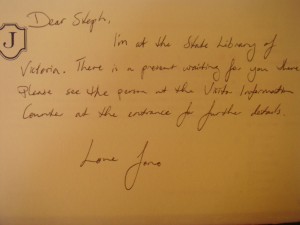 Needless to say, I threw my deadlines to the wind, and dashed off to the library, elbowing my way through the masses of hapless homeward-bound commuters and slow-walking pedestrians who clog the arteries of the CBD during this time.
At last, slightly winded and rather more windswept than I might have liked, I arrived at the State Library of Victoria, where I met my first roadblock: the in-the-know chap who was supposed to possess the second letter necessary to solving this riddle had clocked off for the day. And waving the letter in front of the help desk librarians resulted only in a friendly suggestion to try the online database.
But a girl clutching a monogrammed note isnt easy to deter, and I set to work harassing the security staff. Fortunately a lovely chap called Bob recognised that there may well be a link between the fact that a young girl named Stephanie was pestering him about a note and the fact that he had a note addressed to someone with, coincidentally, the same name, sitting in a nearby cabinet. After a brief soliloquy from Bob about his nickname, background, favourite foods and TV shows, and the days weather I had my note.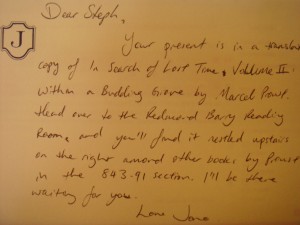 This second note was equally as cryptic as the last, but required less sprinting and elbowing. I was to head off to the Redmond Barry Reading Room, where my present awaited in a volume of Proust (ah, my nemesis Proust, whose work I love but will no doubt never finish, but whose grave I sought out in Paris just because I felt bad about Oscar Wilde hogging all of the attention).

I tramped up a few flights of steps and after some navigating of the Dewey Decimal system, found the hernia-inducing copy of Proust I was after. Fortunately it was on a shelf just low enough that I didnt need to go scouting for a step stool (Im 51, a fact that has implications for the particular books Ive read and the supermarket products I buy).
I retrieved my Proust, and opened it up to find that a ring box-sized hole had been carved from it, at which point I checked to ensure that this was not, indeed a library copy. (Aside: thanks to Jimmy at FreeHollowBooks for his fabulous workan interview with Jimmy can be seen here) Inside the hole was a specially made ring box with the date and my and partners initials carved into it. And inside the box was a vintage 1930s-era ring.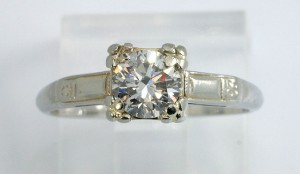 At this point my partner crept up beside me and asked if Id marry him, to which I gave a very hushed, library-appropriate yes (although from the scandalised look of the lass sitting at the nearby reading table, it was still far too loud).
From there, it was off to Jacques Reymond for a dinner that extended over several hours, close to a dozen courses, and some reading of the notes sent to us by our parents in support of the marriage.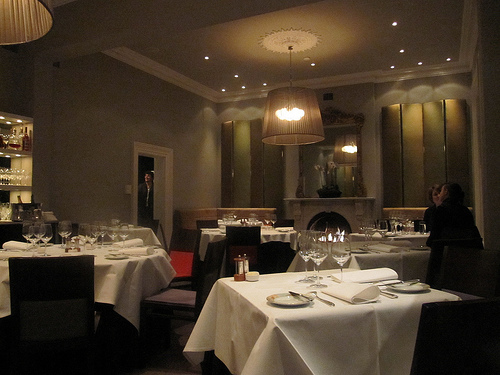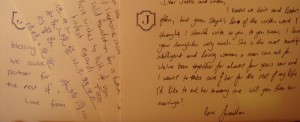 Proposal rating?
Rating:





(classic)