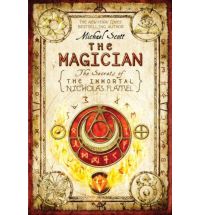 Rumours have long abounded that the 14th century alchemist and scrivener Nicholas Flamel is alive and well, thanks to his getting his hands on an elixir of immortality. And in Michael Scotts world, this rumours arent mere hearsay: Nick is indeed living large (or as large as a mousy bookshop owner might live). But now that evil wizard John Dee has nicked off with the spell Nick needs to ward off those crows feet, Nick is in a (liver) spot of trouble indeed.
Fortunately, while time isnt on Nicks side, twins Josh and Sophie are. The subject of a one aura to rule them all sort of prophecy, the twins are pretty powerful indeedor at least Sophie is, given that her inner magical fabulousness has been well and truly awakened by the mythical Witch of Endor. But there are plenty of baddies on the horizon intent on letting Nick age into uselessness, and on converting the twins to the dark side while theyre at it.
Where Book 1 was content to have John Dee being chauffeured about in style, Book 2 kicks things up a notch with the addition of Niccolo Macchiavelli of The Prince fame. The mix of Dees angst and impetuousness and Machiavellis coldly logical outlook is a recipe for all sorts of fun and shenanigans, and there are some choice moments in this book where Machiavelli really gets his droll on.
But hilarious historical pairings aside, The Magician suffers from many of the same flaws at its predecessor The Alchemyst. Its ruddy good fun, but nothing really happensdespite the fact that those cliffhanger chapters are trying their utmost to convince us otherwise. And where the first in the series could be summed up simply as Josh and Sophie run away from Dee, and Sophie gets awakened, this books summary runs along similar lines: Josh and Sophie run away from Dee (and Machiavelli) some more, and Sophie (and Josh) gets awakened some more. And given the way this one ended, I have a feeling that these very same comparatives will be employed in the next. Indeed, the two books together span only a few days despite all the kung fu and magical huff-and-buff and Creatures of Doom, and one wonders whether these books really need to take up as much pagination real estate as they currently do.
The book also suffers from repetitive redundancy syndrome, and not only does the plot cover the same ground time and time again, but so does the exposition: Dee is angsty; Machiavelli is cold; Nick is untrustworthy; Josh is power-hungry. Its a shame, because this series has such potential to be something truly outstanding. But rather than embracing ambiguity and letting shades of grey emerge naturally, the author not only resorts to binaries, but makes these binaries painfully explicit.
The sheer number of point of view characters is also an issue here, particularly since many of these scenes seem so very extraneous. Nicks wife, for example, who was taken to Alcatraz in book one, spends a good fifty or so pages of this second volume escaping from the prison. Its interesting enough stuff, but given how much else is going on, these scenes could be excised with ease. Similarly, the myriad scenes in which Dee and Machiavelli squabble (Dee angstily and Machiavelli logically), and those in which Josh struggles with his loyalties towards Sophie and Nick become rather tiresome. And goodness, if I hear one more time about how the auras of the baddies smell like rotten eggs and snakes, while those of the goodies are all roses and air freshener
Still, The Magician is a fun, light-hearted romp that will no doubt be enjoyed by the Harry Potter and Percy Jackson setalthough in my mind both of these series are more accomplished than Scotts. The nods to history and mythology are good fun, and Scotts sense of humour comes through solidly enough that despite this books flaws its hard to feel too poorly about it.
Rating:





(good)
Purchase'The Magician from'Amazon |'Book Depository UK |'Book Depository USA
With thanks to Simple Schooling for the review copy
See our other Michael Scott reviews